Gry – niektóre imprezowe, inne bardziej familijne, jeszcze inne mogą nawet wspomagać terapię. Gry, które służą budowaniu relacji.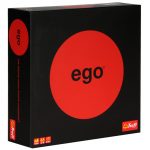 Ego / Ego family (Trefl)
W tej grze zadajemy (sobie) pytanie (z pociągniętej kartki) a następnie nań odpowiadmy. Nie jawnie oczywiście – wykorzystujemy do tego żetony odpowiedzi. To pytania zamknięte, testowe, a więc możemy wybrać a,b lub c (albo d w wydaniu family). Zadaniem pozostałych graczy jest odgadnąć jakiej odpowiedzi udzieliliśmy. Każdy prawidlowy strzał punktuje dodatnio, za nieprawidłowy tracimy. Cała filozofia. A jakie pole do dyskusji :)
Zapraszam do zapoznania się z recenzją całej serii Ego
Gra Vlaady Chvátila, tego od Cywilizacji poprzez wieki, Galaxy Truckera i Tajniaków (to tylko nieliczny jego dorobek). Gra o podobnej zasadzie co Ego – tylko tutaj nie mamy z góry przygotowanych pytań. Sami je tworzymy. Pytania są tylko trzech rodzajów: wolisz A czy B? co jest w/g ciebie gorsze: A czy B? czego by ci bardziej brakowało: A czy B?. Owo A i B – to elementy, które każdy gracz dowolnie podstawia zagrywając karty z ręki i zadając tak spreparowane pytanie wybranej osobie. Dalej jest podobnie. Wybraniec odpowiada w tajemnicy, a my zgadujemy jak on odpowiedział. A potem… potem wywiązuje się zażarta dyskusja, czy naprawdę ten papier toaletowy jest aż tak bardzo potrzebny ;)
Moja recenzja na GamesFanatic.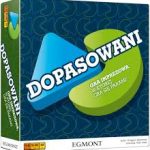 Dopasowani (Egmont)
Gra imprezowa, w której gra się parami. Staracie się odpowiadać na pytania tak, by wasze odpowiedzi (twoje i twojego partnera) były możliwie takie same. Bo tylko wspólne odpowiedzi punktują. Gra może najmniej edukacyjna z tych tutaj przedstawionych, ale wspaniale przełamuje lody. Jest całkiem przyjemna nawet wtedy, gdy dobieracie się w pary z zupełnie nieznajomymi osobami.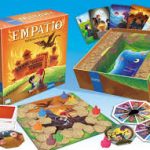 Empatio (Granna)
W Empatio chodzi o dwie sprawy. Pierwsza, w zasadzie wprowadzająca – to wyobraźnia i opowiadanie historii. Nie musi to być historia długa, ale jednak trzeba ją wymyślić patrząc na pociągniętą ze stosu kartę. "Jakbyś się czuł, gdyby….?" i po tym gdyby następuje opowiastka. Osoba, do której jest kierowane to pytanie – i to jest właśnie ta druga sprawa, o którą chodzi – musi określić jakby się czuła w tej sytuacji a następnie zaznaczyć ten stan na specjalnej tabliczce. Pozostali – jak zapewne nie trudno się domyśleć – starają się zgadnąć, jak by się ta osoba czuła w tej określonej sytuacji, i to również zaznaczając na swoich tabliczkach. Następuje porównanie wyników i punktacja – oczywiście im bardziej dopasowany do oryginału (czyli osoby pytanej) wynik, tym więcej punktów gracz zyskuje.
Zobacz recenzję na Games Fanatic.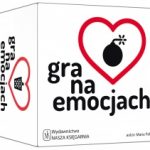 Gra na emocjach (Nasza Księgarnia)
Dokładnie jak w tytule. Jeden z graczy zadaje pytanie. Jest to tak naprawdę pytanie skierowane do siebie samego, ale odpowiadają nań inni. Każda z pozostałych osób wybiera spośród swoich kart tę, która wydaje jej się najbardziej odpowiednia, najlepiej przedstawiająca uczucia pytającego. Karty zbieramy, tasujemy (niczym w Dixit) i rozkładamy. Teraz pytający
interpretuje każdą z kart (a więc np. czułbym się rozbity w drobny mak, jak w niebie, jakbym dostał kosza etc.)
wybiera tę kartę, która najtrafniej przedstawia jego uczucia. Gracz, który ją wyłożył zdobywa punkt (zatrzymuje tę kartę przed sobą).
Receznja na blogu Scheherazade@ZnadPlanszy